Rapid Application Development
Native PHP interface with intuitive naming convention, no need to learn new terminology or syntax
Developers who already know PHP can use Vork productively within minutes
Performance-Oriented, Scalable, Green and Economical
Green-IT: Enterprise-grade Vork platform serves more traffic with fewer servers!
Automatically loads code & object dependancies exactly as needed and never a byte extra!
Vork can operate without any disk-IO yielding performance in a different league
from disk-limited applications, approaching the speed of a cached-response.
Extensive Toolset
Standards-Compliant
Full MVC stack includes layouts & components
Generates mobile-ready HTML5 (or XHTML1.1)
SEO-optimized smart-URL format
Automated Section 508 & W3C WAI Accessibility
Universal database support without abstraction
Native non-relational database (NoSQL) support
PHP5 object-oriented E_STRICT source code
Follows Zend Framework coding standards
Import from CakePHP, Symfony, ZF & CodeIgniter
Export objects to Zend Framework & Cake PHP
Fully-documented in DocBlock standard
CSS-reset for cross-browser consistency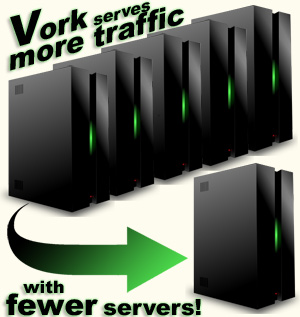 URL shortening
Automatic SSL management
Amazon Web Services
Meetup event management
Image watermarking
The Vork Advantage
Vork Enterprise PHP Framework
Ease of use, intuitive project architecture and conventions maximize developer productivity and reduce learning & ramp-up time from weeks to a matter of minutes, thus greatly improving IT ROI.
Performance, unique system utilizes a bare minimum of resources and can be configured to operate entirely from RAM without any disk access resulting in a huge performance advantage and substantially greater traffic-handling capacity per server.
Extensive toolset includes interfaces to Google (maps, translation, charts, payments), social networking (Twitter, Meetup, Facebook), e-commerce (credit card validation & processing, automatic-SSL, PayPal), tag clouds, forums, embedded rich-media (YouTube, MP3), wiki, short-URL generation and much more!
UPS
Amazon
Twitter
PayPal
YouTube
Google
Fedex
Flickr
Standards-compliant with nearly every web-development standard eases maintenance while maximizes reliability and cross-browser consistency. Vork is HTML5 / XHTML 1.1, MVC, Section 508 accessible, object-oriented, adherent to coding best-practices and more.
Universal compatibility with every PHP-based platform and mainstream database.
Cost, open-source licenses are free under the industry-standard terms of GPLv3.
Many More Tools!
Sharing boxes like:
Smart 404 "not found" with Google Search
Generate and read RSS 2.0 or Atom feeds
Universal log-in/log-out/forgot-password utility
Debugging-output to Firefox Firebug console
Requirements

Oracle
MySQL
IBM DB2
MongoDB
Amazon RDS
===================>> MS SQL Server
PostgreSQL
Membase
CouchDB
Sybase
SQLite
Any PHP5 version 5.0.2 to 5.3.x+ (planned future-support for PHP6 and Facebook HipHop)
Any web server (Apache, Microsoft IIS, etc.)
Any operating system (Linux, Windows, Mac OS X, FreeBSD, etc.)

Any database or cloud-DB that is supported by PHP will work with Vork! (will also work without any DB)

Built-in support for multiple master/slave database configurations as well as both NoSQL & RDBMS
Any caching package with a PHP interface (Memcached, etc.)